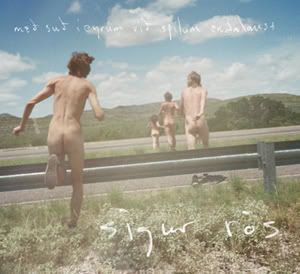 Sigur Rós
Með suð í eyrum við spilum endalaust
NQL Rating: Hot enough to melt all of Iceland.
When "Gobbledigook," the first single for Sigur Rós' fifth album,
Með suð í eyrum við spilum endalaust
, surfaced almost a month ago, I knew it would be love at first listen for me with this album. Sigur Rós have said in interviews that they took a looser approach to writing and recording the new album, having been inspired by the acoustic nature of their double-album,
Hvarf-Heim
, from last year. Also interesting, this album was released exactly one month after it was completed. All of these things together make
Með suð í eyrum við spilum endalaust
one of the most beautiful albums of 2008 thus far.
For such a loosely recorded album, it sounds very well put together. Each song is wonderfully crafted with only the sort of quiet aplomb and majestic courage that one can expect from a band like Sigur Rós. The greatest thing about this album, though, is the fact that Sigur Rós appear to have broken out of their depressing shell. I've never really thought of them as an optimistic band, but it's safe to say that this album has completely changed my opinion. It's an incredibly uplifting and inspiring hour of music that calms and perplexes the listener all at the same time.
"Gobbledigook" is one of the sure standouts on the record. It mixes acoustic spurts of guitar with howling vocals and handclaps, and also includes one of the best build-ups in recent memory. The next track, "Inní mér syngur vitleysingur," keeps the movement of the album going with intricate percussion, swelling strings, and Jónsi Birgisson's beautiful falsetto. A few tracks later, "Festival," the album's almost ten-minute long behemoth, slowly reaches its rousing climax, with squealing horns and so much "epic-ness" that it feels that Sigur Rós really might be the biggest band in the world at that exact moment. They're not, of course, but it's a nice thought.
Overall, Með suð í eyrum við spilum endalaust is a fantastic addition to Sigur Rós's discography and definitely on course to be one of the best albums of the year. Although it still sounds similar to their previous releases, I think fans have to come to terms with the fact that Sigur Rós is just a band that creates their music with a large-scale mindset. But, if you don't mind the epic, mind-blowing nature of each track, this album is sure to be your personal soundtrack for the rest of the summer.

--Anna Deem